WRAPA APPLAUDS KANO STATE HIGH COURT ON DEATH SENTENCE RULING OVER HANIFA'S KILLER, ABDULMALIK TANKO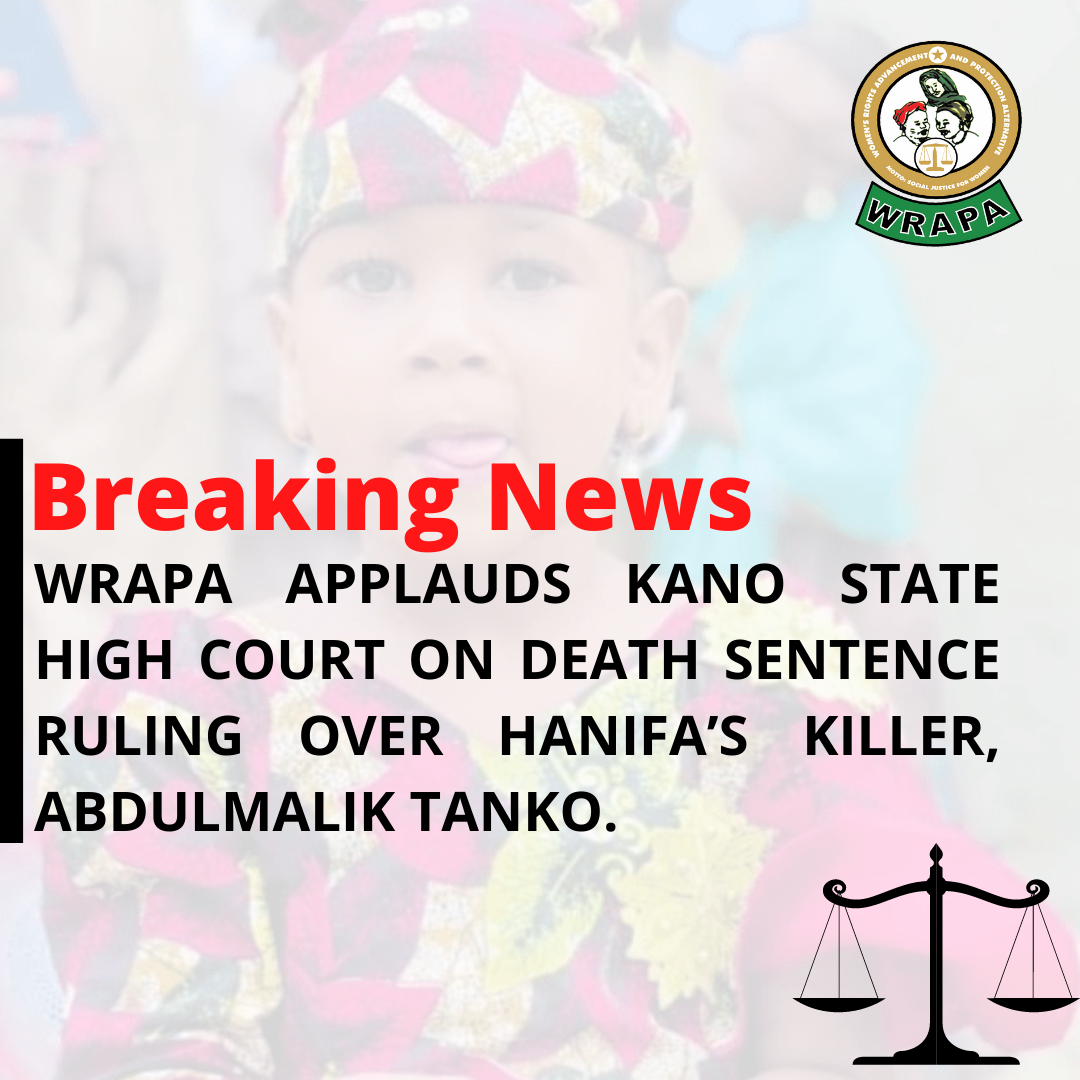 July 29, 2022
Written BY:admin
The Kano State High Court on Thursday sentenced the proprietor of Nobel Kids Academy and North West Preparatory School, Abdulmalik Tanko, to death for the kidnap and killing of five-year-old schoolgirl, Hanifa Abubakar.
The Presiding Judge, Justice Usman Na'abba, also sentenced Tanko to five years imprisonment for the four-count charges levelled against him.
Hanifa was a pupil of Noble Kids Comprehensive College; a school located in Kwanar 'Yan Gana in Tudun Murtala Quarters in Nassarawa Local Government Area of the state.
She was abducted by Mr Tanko who demanded ransom from her parents and was reported to have killed her in December last year.
The judgement is a soothing ice on Women & Girls across the country. The recent rise on Violence Against Women & Girls with little or slow persecution has become alarming & infuriating to Nigerian women. We heartily commend the judgement of the Kano State High Court for the sentence duly accrued to the culprit and his accomplices.
While we applaud the judiciary system, we are equally hopeful that his Excellency, Kano State Governor, Abdullahi Ganduje, who had earlier this year vowed to sign the death sentence without further delay if given by the court will do as he has vowed.
WRAPA will continue to condemn all forms of Violation Against Women & Girls.
WRAPA condoles with the family of Hanifa who was a promising young girl full of life and never deserved any harm, let alone murder!
WRAPA will keep to its mandate on promoting Social Justice for Women and see that perpetrators of such hideous crimes are brought to book.
JUSTICE FOR ONE IS JUSTICE FOR ALL!